2015 Celebrating Young People Awards Recipients
Pope Francis Award Recipient: The overall youth award
Ryan O'Neill is 21 and studying for a degree in Psychiatric Nursing. Since leaving Bishop Hedley Catholic High School in Merthyr Tydfil, Ryan has come to appreciate the environment where he studied, which nurtured his values and faith, influenced his choice of career and enabled him to be respond to the world around him. Merthyr Tydfil has been severely impacted by the economic decline. Ryan wished to give something back to the community, so for the past 18 months he has been voluntarily returning to school, helping pupils as a learning support assistant. Ryan took it upon himself to organise support from the wider community. He has started supporting the PE department and has organised girls' football trips and entries into competitions. He can see beyond the activity to its impact on raising the girls' self- esteem. Ryan also organised a speaker to talk about prostate cancer and how to be aware of its symptoms.
Read More →
Recipients of the St. Josephine Bakhita Award: Celebrating human dignity
Recipients of the Joseph Cardijn Award: Protecting the dignity of workers
Recipients of the Jimmy Mizen Award: Promoting solidarity and peace
Recipients of the Barbara Ward Award: Caring for the environment
Isabella is 14 and a staunch advocate for environmental issues, spearheading a campaign to reduce wasted electricity in the school, and representing the school...
Read More →
Maisie, Hollis, Hannah & Theo (aged 14-15) have become the first Fisher More CAFOD Bloggers, making a video blog of the school, and how simple things like switching a light off...
Read More →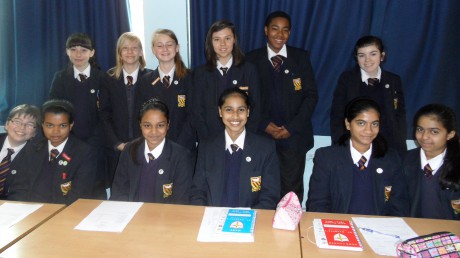 St Gregory's Eco Committee has worked extremely hard to secure the Eco Schools' Green Flag for the second time. Eleven Year 10 pupils volunteered for the Eco Committee...
Read More →
Recipients of the Dorothy Day Award: Fostering community and participation
Recipients of the Cardinal Hume Award: Living out the option for the poor
Cheenie is 18 years old and at St Charles Catholic Sixth Form College. She has been one of the pillars in the activities organised by the Chaplaincy.
Read More →
The Year 7 class from Notre Dame Catholic College, Liverpool, heard about a St Peter's and St Paul's school in Uganda and how few resources and facilities...
Read More →
Tharaney, 17, is a student at St Dominic's Sixth Form College, Harrow. She has been working for the good of the community and those most in need.
Read More →
Recipient of the CYMFed Award: Inspiring youth leader
Bruno Gambini has been a much loved Youth Worker in the city of Derby for over 30 years. You could probably walk into any parish within the city and people would smile on hearing his name. Those who work alongside him explain "Bruno doesn't see himself as a youth worker, yet the work he continually does with young people year after year is simply wonderful. Bruno doesn't see himself as a Youth Minister but the amount of young people who have stuck with their faith because of Bruno's gentle but powerful witness is amazing." Bruno understands that life as a teenager can be hard, sometimes deadly boring and very often confusing. Bruno is a constant presence of fun, sound advice and unfailing encouragement. "Bruno loves young people and young people love him, it really is that simple." Bruno's commitment is unfailing - he's always there. He works in parish youth groups, confirmation programmes, within the deaf community and is a regular on the HCPT Lourdes pilgrimages.
Read More →